Infrared Heating Panel SWRE 700 with Digital Thermostat + Stand-Set
Infrared Heating Panel SWRE 700 with Digital Thermostat + Stand-Set
Conventional radiators often do not look contemporary and take up much room in a room. A space-saving and elegant solution is the high-quality infrared heater SWRE 700 SUNWAY, this offers a luxurious design, which blends seamlessly into a contemporary interior design.

Power / room heating: Suitable for every room

The SUNWAY SWRE 700 infrared heater offers a capacity of 700 watts and is ideal for 14m² rooms, depending on the insulation and the room conditions. For larger rooms, we recommend to use several infrared heaters in the room, instead of using a very high wattage infrared heater, otherwise too far away places in the room can not get really warm because the heating panels have a maximum range of about 4.5m. Furthermore, with several radiators in the room, the heating and Nachheizphase lower, whereby the energy consumption is less than with a infrared heater with a high wattage. It does not matter how much watts an infrared heater picks up, as it only partially tells us something about performance. Decisive factors are the surface temperature, radiating surface and surface condition.

Features of the product

The infrared heater has an integrated digital thermostat, whereby the determination of the desired temperature is individually adjustable. The radiator is made of metal and the connection is made with the power cord (length ca.1,6m) on the nearest outlet. The heat regulation is carried out with the help of two temperature sensors. One sensor controls the room air temperature, a second sensor monitors the surface temperature of the infrared heater. To minimize power consumption, set the temperature individually for each individual room. The intelligent controller eliminates overheating due to over-voltage, covering or tilting of the radiator. In addition, the function of this thermostat allows to limit the surface temperature of the radiator in the nursery. In addition, the product offers overheating protection as well as an activatable child safety device. Furthermore, the infrared radiator is characterized by its robust and child-resistant wall mount. The complete mounting kit is included. Attached to the wall via the supplied rails. The heat is transmitted evenly to the living area by infrared radiation. Dust-raising is thereby significantly reduced, for this reason, the radiator is particularly suitable for allergy sufferers.
Advantages of the product at a glance
Easy installation and flexible use
The infrared heater is installed and ready to use in just a few minutes. No major renovations or heating fitter required. The infrared heater can easily be dismantled easily and used elsewhere.
Healthier indoor climate
SUNWAY radiators do not disturb the ecological balance of your home. Since you have no internal fan, no dust is whirled up, the heating elements do not dry out the air and no dust particles are burned. Therefore, with SUNWAY radiators, you will not notice dry air or strange odors, just cozy warmth.
Classy and space-saving design that fits perfectly in every room
Conventional radiators do not look contemporary and do not provide an appealing design that would fit into stylishly appointed spaces. A stylish and elegant solution is the SUNWAY SWRE 700, which offers a unique and modern design and thus fits perfectly into a stylish interior design. The infrared heater also offers a very space-saving design and does not require much space due to its compact dimensions: the radiator has a thin-walled heating surface.
Premium quality and guaranteed reliability
SUNWAY has been a renowned manufacturer for many years in the development and manufacture of infrared heaters. The SUNWAY brand stands for high-quality and first-class processed brand products with premium quality. SUNWAY infrared heaters are manufactured through a modern manufacturing process that allows infrared heaters to operate for up to 30 years. For the production of SUNWAY infrared heaters only high quality components are used. The manufacturer guarantees the product for 5 years. All products are CE certified.
Friendly and competent service
With us you have a competent service partner at your side, who is happy to assist you with any questions and problems concerning heating. Should an infrared heater purchased from us fail to function properly, you will receive a new infrared heater within the warranty period without a long wait and without complicated handling.
This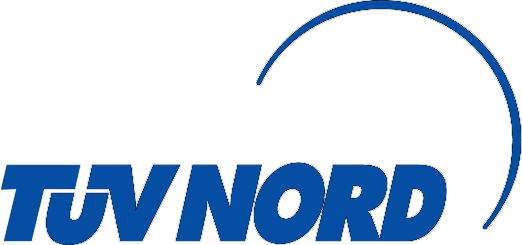 - tested product offers a warranty of 5 years - the useful life is about 30 years.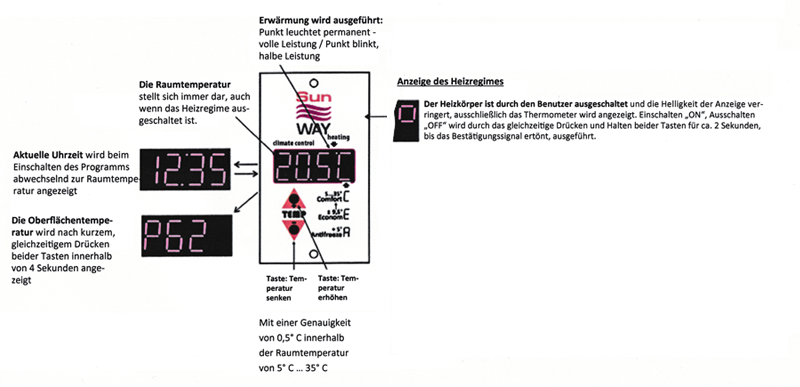 Technical Data - Thermostat:
Measuring range Room temperature 9,5° ... +99,5° C
Setting range room temperature -5° ... +35° C
Setting range surface temperature 40° ... 95° C
Operating voltage of the power supply (50 Hz) 160 - 250 V ...
Own consumption 1,4 W
---
| | |
| --- | --- |
| Weight: | 11kg |
| Amperage: | 3 Ampere |
| Dimensions: | BxHxD 1100x470x15mm |
| Power: | 700 W |
| Heating area: | 14m² |
| Model description: | SUNWAY SWRE 700 |
---