Infrared Heating Foil Calorique
Electric underfloor heating system made of carbon foil is very well suited as wall heating, ceiling heating, mirror anti-fog heating and mobile home heating. The article is available in 50, 80 or 100 cm width, incl. mounting material. The heating foil is easy to install for every experienced DIY enthusiast.
The CaloriQue® infrared heating foil has been produced in the USA since 1985. The certification takes place in Europe. CaloriQue® offers a 15-year warranty on this product. The useful life of the heating foil is on average 30 years.
The heating foils can be cut to the desired size along the given lines. The heating surface and heating capacity are selectable. The film is 0.3 mm thick and can be adapted to any design. The carrier foil is not flammable.
Possible areas of application for CaloriQue® infrared heating foil:
Electric underfloor heating, targeted surface heating

Electric wall and ceiling heating

Automatic snow melting systems

Camper heating

Mirror anti-fog heating

Heating the root area in agriculture

Heat for pets, e.g. reptiles

Heating of barrels and tanks
Top offers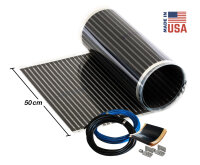 CALORIQUE Infrared heating foil set, 50 cm Width