Thermostat BTC70 / Controler BTC70 with remote sensor 3m
This thermostat BTC70 is designed for electric floor heating.
It is designed to suit in a standard flush mount wall box.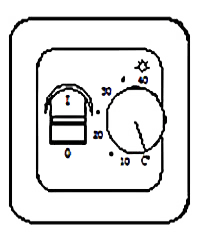 Setting the temperature

The thermostat has a range of +5°C to +40°C. This range can be ajusted. When the heat is on, the LED is red. When turned off, the LED is not lit. Through turning the wheel the desired temperature will be set.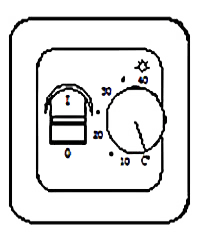 Placing the thermostat
The thermostat should be mounted on the wall with a free air circulation around it. Also any other heat sources (eg the sun), drafts from doors or windows, or the temperature of the outer wall should not affect the thermostat.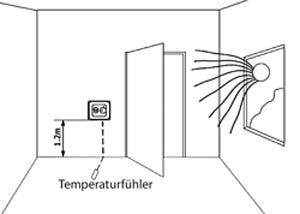 | | |
| --- | --- |
| Power supply: | 230 V - 50 Hz |
| Power consumption: | 5 W |
| Adjusting range: | 5° C ~ 40° C |
| Differential per. temp.: | 0,5° C |
| Operation temp.: | - 5° C ~ 50° C |
| Degree of protection: | IP20 |
| Material: | self-extinguishing PC |
| Floor sensor: | NTC sensor 3 m |
| Warranty: | 2 Years |
---
| | |
| --- | --- |
| Voltage: | 220-240 V |
| Frequency: | 50 Hz |
| power consumption: | 5 W |
| setting range: | 5°- 40°C |
| housing material: | anti-flammable PC |
| temperature sensor: | 1 |
| Ground Hysteresis: | 0,5°C |
| max. load: | 16 A / 230 V / AC |
| operating temperature: | -5°C bis + 50°C |
| ground sensor: | NTC |
| Guarantee: | 2 years |
---