CALORIQUE HTM- Self-regulating heating cable 10 W/m - Trace heating in and on pipes
CALORIQUE self-regulating heating cable with HTM jacket 10 W/m for protection against frost damage in water pipes, drinking water pipes. Pipe heating.
Self-regulating HTM heating cable is the simplest solution for heating small diameter pipelines. This heating cable is ideal for all types of water pipes, including drinking water pipes, because the cable has slim dimensions of approx. 7.7 x 5.5 mm and is flattened. The HTM heating cable is suitable not only for metal but also for plastic pipes. The self-regulating heating cable can be laid both outside and inside the pipe.

In- and outdoor use:
Pipes with different diameters
Suitable for metal and plastic pipes
Can be installed in and on the pipe

The heating cable has a thermoplastic fluoropolymer outer jacket with a protective braid made of tinned copper wires underneath and offers high chemical resistance. The HTM heating cable can be used in aggressive and organic environments. According to the manufacturer, safe use is also permitted in potentially explosive areas.
ENERGY SAVING: the heating cable is self-regulating and does not require an additional thermostat. It reacts automatically to fluctuations in the ambient temperature and compensates for them: in colder places there is more heating, in warmer places - less
APPLICATIONS: perfect for use with small diameter pipes. The heating cable fits all types of water pipes, including drinking water pipes, metal and plastic pipes
HIGH QUALITY INSULATION- Our self-regulating heating cable has quality sheathing and is moisture, weather and UV resistant.
EASY INSTALLATION - the uninterrupted parallel layout of the cable allows cutting during the installation process.
HIGH QUALITY AT AN UNBEATABLE PRICE- When purchasing our self-regulating heating cable, our customers receive a 15-year manufacturer's warranty and can count on at least 30 years of carefree, maintenance-free use of our high-quality product
The heating cable consists of two parallel copper wires. The copper wires are separated from one another by a semiconductor layer. Due to its continuous, parallel combination of heating matrix particles, the heating cable automatically reacts to fluctuations in the ambient temperature and compensates for them: in colder places, the plastic between the heating conductors shrinks and restores the current paths - the resistance drops - there is more heating. As the ambient temperature rises, the resistance increases accordingly, thereby cooling the heating cable. Self-regulating heat emission adapts individually to each point of the section. In this way you can reach different temperatures in the different individual sections and thus always get an optimal temperature. This also completely rules out self-overheating, e.g. when the heating cables cross or overlap.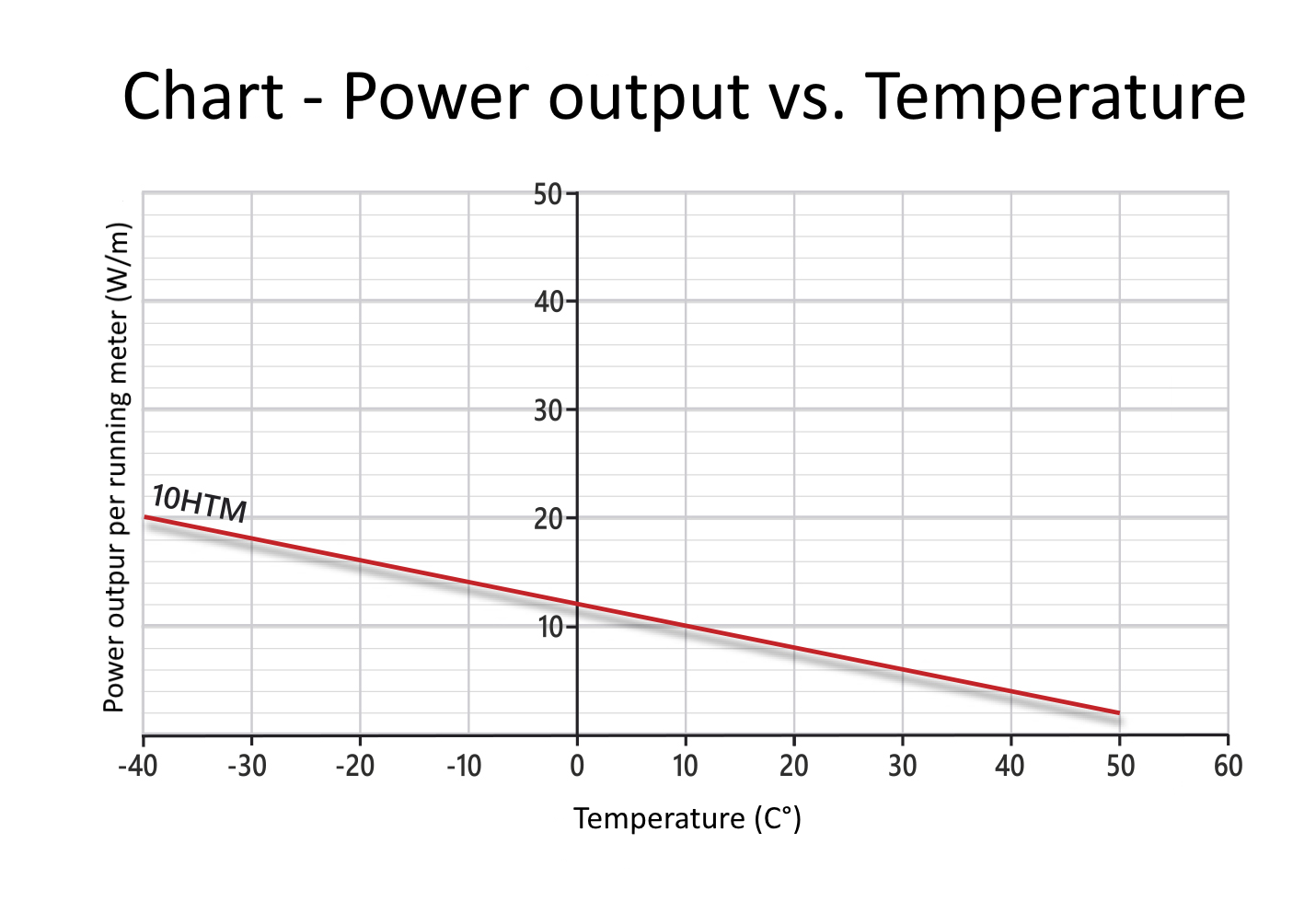 The cable can be used at almost any length without affecting the properties. The maximum permitted cable length can be found in the technical data sheet. Even in the event of a cable crossing, the performance is retained.
---
| | |
| --- | --- |
| Voltage: | 220 / 240 VAC |
| Dimensions: | (W x H) - 7,7 mm x 5,5 mm |
| Conductor cross-section: | 0,56 mm² |
| Applied maximum temperature: | +85° C |
| Maximum Operating Temperature: | +65° C |
| UV-tolerance: | yes |
| Use in potentially explosive areas: | yes |
| Specific Power Consumption (at 10°C): | 10 W/m |
| Minimal Bending Radius: | 30 mm |
| Certification: | CE, TÜV Nord |
| Minimum installation temperature: | -40°C |
| Max. cut-off length at 10° C on the pipe: | 80m |
| Max. cut-off length at 0° C in the pipe: | 58m |
| IP protection class: | IP 67 |
| Warranty / lifetime: | 15 years / min. 30 years |
---