All-purpose, self-regulating heating cable SLL 22 W/m
The SLL cable consisting mainly of conducting polymer materials is a self-regulating heating cable. Based on PTC (positive temperature coefficient), the cable, due to continuous, parallel combining of heating matrix particles, automatically adjusts the heating power by changing the resistance on its own according to ambient temperature. SSL can be used to protect roofing system components against freezing or heat pipelines and containers, in particular, in explosive areas.
Safety ? the self-regulating system prevents overheating and short circuit of a heating element. Constant temperature maintenance ? the heating power self-regulation is achieved due to responding to ambient temperature. Energy saving ? when the temperature grows, the automatic system lowers the heating power and electric energy consumption on its own. Durability ? laser linking of the cable?s protective covers prevents corrosion and secures longer lifetime. Easy to use ? uninterrupted parallel layout of the cable allows cutting in the process of installation.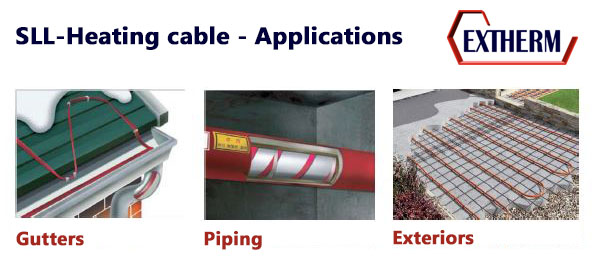 Model name - SLL16
Power supply - 220..240 VAC
Conductor cross-section ? 17 AWG
Maximum applied temperature - 85°?
Maximum operation temperature - 65°?
Maximum section length - 130 m for 16 W/m; 110 m for 22 W/m; 90 m for 30 W/m; 70 m for 40 W/m
Dimensions (W x H) - 10,8 mm ? 5,9 mm
Specific power consumption (at 10°?) - 16 W/m, 22 W/m, 30 W/m, 40 W/m
Ultraviolet tolerance - Yes
Use in explosive areas ? Yes
---